Scrum is a combination of 3355. The core concepts of scrum framework can be simply memorized it as 3.3.5.5 as follows:
3 roles
3 Artifacts
Sprint Backlog – Sprint To-Do List
Product Increment – Potential Shippable Product Increment
5 events
5 values
Open
Respect
Courage
Focus
Commitment
The goals of 3355 is behind the three Scrum Pillars
Transparent
Inspection
Adaptation
The Definition of "Done" (DoD) is achieved by fulfilling the 3 pillars through the means of 5 events of the Scrum team.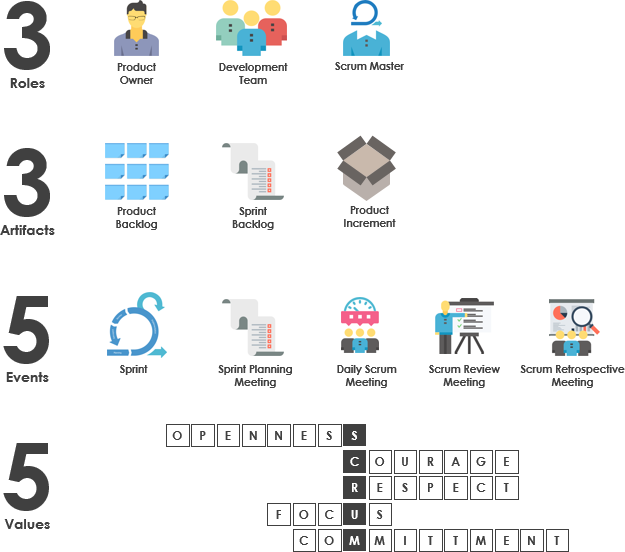 About Visual Paradigm

Visual Paradigm help organizations stay competitive and responsive to change faster and better in today's fast changing environment. Our award-winning products are trusted by over 320,000 users in companies ranging from small business, consultants, to blue chip organizations, universities and government units across the globe. It enables organizations to improve business and IT agility and foster innovation through popular open standards and process frameworks.Visual Paradigm, a killer Agile feature in 2018, introduced Scrum Process Canvas for automating the way a Scrum team to create, manage and deploy software application that empowers the team to continuously improve their performance at unprecedented speed and scale.

Manage the Entire Scrum Process in One Page
Automate the Scrum Framework in a fun and enjoyable dashboard with eye-catching updated status.
Manage Backlog, Multiple Sprints of different Scrum Roles with a single-page visually executable canvas
Allow instantly access, review and generate scrum artifacts and related documents to be archived in the Shared Cabinet
Automate the Scrum events and related activities with self-explanatory instructions, samples and required document templates.