Setting default visibility of various panes

In Visual Paradigm, there are four panes that display the content of a project. They include:
Diagram Navigator - List and provides navigability to diagrams in project
Model Explorer - List and provides navigability to model elements in project, as well as to present the model hierarchy of project
Class Repository - List and provides navigability to classes and class members, as well as to present the hierarchy of classes and packages
Logical View - Allows you to categorize diagrams logically
Some teams may want to encourage their team members to use these panes, while some teams not. Visual Paradigm Online ("VP Online") supports setting the default visibility options of these panes. When a team member who are running Visual Paradigm tries to login to the server, he will see the panes that are set visible in VP Online become visible in Visual Paradigm.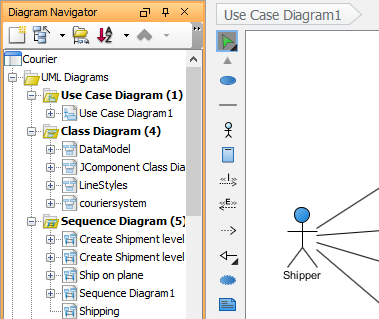 Diagram Navigator in

Visual Paradigm



Setting visibility of a pane

Visit the URL of your

VP

Online cloud entry point through web browser.
Log in your account.
Click on your profile image at top right and select Administration from the popup menu.




Open Administration page

Select System Tools from the menu on the left.




Open System Tools page

Under the Panes section of the System tab, set the visibility options for the panes.




Updating the visibility option for Model Explorer


Click Save at the top right to save the change.
Related Resources
The following resources may help you learn more about the topic discussed in this page.