Searching a Post
When you want to read the conversation made earlier but have no idea in which diagram and shape the conversation was made, you can search it out with a keyword.
Searching a post
At the top left of the PostMania, enter the keyword in the Search... field.




Searching for the word 'quotation'


Press the Enter key to perform a search. Search results are listed in the page.




Search results


You can click on an entry to open it.




Opening a post from search resutls

Accessing search history
The history of your previous searches are listed on the left hand side of the search page. You can search a keyword again by clicking on it.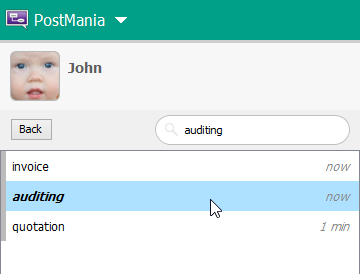 Search the word 'invoice' again

Related Resources
The following resources may help you to learn more about the topic discussed in this page.