Reference to resources

You can add references to node, to reference to both internal and external resources such as a shape, a diagram, a file, a URL, etc. For example, to make a node Prepare Agenda link to a document of agenda template. This makes a mind map more informative by providing additional information from a mind map which might be casually developed.
To add a reference:
Right click on the node you want to add reference and select Open Specification... from the popup menu.


Opening node specification


In the node specification, open the References tab. Right click on the center of pane and select the type of reference to add from the pop-up menu.




Add a reference


| Type of reference | Description |
| --- | --- |
| File | An external file. |
| Folder | An external folder. |
| URL | A URL. For example, https://www.visual-paradigm.com |
| Diagram | A diagram in the opening project, such as a requirement diagram. |
| Shape | A shape in the opening project, such as a use case shape on a use case diagram. |
| Model element | A model element in the opening project, such as a use case. |

Description of different kinds of reference


Supply the information of reference such as the file path of a file reference, a diagram for a diagram reference.
Click OK to confirm.
Once a reference has been added, you can open it from the References tab by right clicking on it and selecting Open... from the popup menu.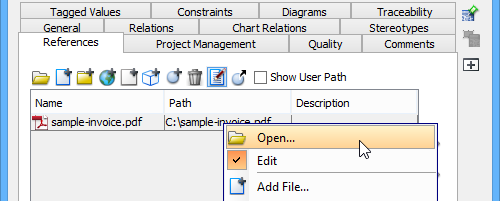 Open a referenced resource

Related Resources
The following resources may help you to learn more about the topic discussed in this page.