Wireflow diagram - A wireframe-based flow chart

Wireframes is a widely adopted UX tool that allows designer and client to work together in identifying the content and functionality of screens. A wireflow makes UX even more effective by harnessing the power of wireframe and flowchart, creating a step-based UX diagram that illustrates the steps and decision points of particular scenarios and the possible navigation paths throughout these steps.
Draw or compose wireframes, at your own choice
A wireflow is formed by a sequence of screens called 'scenes'. Depending on the level of detail required, you can create and embed detailed wireframe as a scene, or to compose a scene by choosing the components from the wireframe symbol library. 400+ ready-to-use wireframe symbols are available.
Animating Wireflow diagram

As long as a user interaction involves alternate and exceptional cases, there are multiple paths of wireflow that can be navigated. To reduce the application complexity, the wireflow editor allows you to specify a particular path (or often called scenario) of wireflow to be animated, so that we can split a user feature to be in sync with the partition of a simple user story or testing scenario.
Play the animation as a storyboard slideshow
Besides animating a path in the wireflow diagram, you can also play the wireframes one by one as a storyboard slideshow. You can stay at a slide, navigate around the wireflow back and forth as you like. This facilitates deeper discussions on UX, which is particularly useful when people want to spend a bit more time on one or more scenes, or skip through some of them in the wireflow path.
STEPS Wizards: Analysis and Design Step-by-Step
Seamless Techniques Expressed in Prescribed Steps (STEPS) is a powerful and groundbreaking feature for software development. Like a recipe that tells you how to cook a meal, STEPS are recipes that lead you through a series of well-defined steps for conducting a particular (reusable) analysis or modeling pattern for certain aspect of your development process. Your team can reuse or choose the appropriate Wizard in your project from the default set provided by Visual Paradigm.
How does it work?
Select Modeling > New Wizard... from the toolbar. You will then be redirected to a page of all wizards. Click on a wizard to browse for its details, and to import it into your project and start working.
List of STEPS Wizards
Title
Steps
Compatible Editions
Use Case 2.0

List the team members
Identify actors (i.e. target users) and their use cases
Identify use case stories
Identify test cases
Plan release
Plan sprints
Task Management - Create tasks for development activities

Enterprise

Professional

Developing MVC Sequence Diagrams from CRUD Model

Draw a conceptual ER Diagram to visualize business objects
Develop a CRUD model that identifies the activities/processes that create/read/update/delete the business objects
Complete the MVC Sequence Diagrams generated

Developing CRUD from DFD

Draw a DFD
Mark 'C', 'R', 'U', 'D' on data flows
Obtain the CRUD Chart generated

Enterprise

Professional

Standard

Competitive Analysis with Radar Chart

Develop a Radar Chart to identify the strengths and weakness of your brand and your competitors'.
Analyze & comment on the gap between you and your competitors.

Capability Maturity Assessment

Develop a baseline capability map
Produce a baseline capability heat map
Produce a target capability heat map
Review and describe the maturity gaps

Enterprise

Capability-Based Transformation Planning

Develop a target capability map
Describe how the target capabilities can be realized

Enterprise
Enhanced Customer Journey Mapping

Customer Journey Mapping is emerging as a powerful Customer Experience (CX) tool. It facilitates the studying of customer experience by visualizing customers' thoughts and feelings through the touchpoints, which are the points of interaction that might alter the way the customers feel about a product, brand, business or service.
1
2
3
4
5
6
7
8
Stages

Critical milestones of a customer journey.

Persona

A fictional character developed to represent a specific group of customer.

Separators

Establish meaningful grouping to lanes.

Lanes

A particular aspect of customer journey. Typical journey map has lanes that describe the touchpoints, customer emotions, thinking and ideas for improvements.

Bullet item cell format

List information in item base.

Apply color code for items

Categorize items by applying different color code.

Configurable chart cell

Compare a set of statistical information with cell-based chart.

Area chart

Show or compare a quantitative progression over time.
Numbered items (Cross stages)

Describe the steps of a journey with numbered items.

Customer Experience chart

Present the change of customer emotion over time. The nodes refer to the items listed in a particular lane.
9
10
11
12
13
Use images in cells

Visualize a customer journey with images.

Description cell

Besides listing information point by point, you can also write description for the entire cell.

Smiley faces

Present the change of customer emotion throughout the stages with smiley faces.
Numbered items (Within stage)

Describe the steps within a stage with numbered items.

Items traceability in lanes

Link between touchpoints, customer thinking/feeling and ideas for improvements.
14
15
Temporarily hide away a lane
Show stakeholders the information they interested in. Optionally hide away particular lanes in the map.
Move lanes up/down with drag-and-drop
Press on the header of a lane and drag it up and down to reposition it.
Stage description
Besides naming a stage, you can give it a brief description and have it appear below the stage name.
Visual API designer for Swagger and API Blueprint

Design, describe and document RESTful API in a total graphical way. You can design RESTful API easily by creating simple Class Diagram, like the one below. The graphical design approach, along with our award-winning diagramming interface make API design simple, straight-forward and error free.
Generate Swagger / API Blueprint formatted API
Generate complete API definition in accordance with the Swagger 2 or API Blueprint specification. The API details all of its resources and operations based totally on your visual API design.
Generate interactive API documentation
Generate beautiful, interactive API documentation that allows your development team and end consumers to easily get started with your API resources.
Visual Paradigm Online
After five years of consolidation, our dedication of high quality service in Agile Development has positioned VPository as one of the leading platforms in the agile and visual modeling industry. To reflect this tremendous expansion of VPository, we announce the update of the brand identity from VPository to Visual Paradigm Online ("VP Online") to re-message the products and online services we supply.
Notes to existing Visual Paradigm (Desktop) and VPository users:

Your VPository account, your work stored in VPository and the VPository features that you can access in previous versions will remain working as they were, under VP Online. No additional step is required to move from VPository to VP Online.
To further clarify the relationship between Visual Paradigm Desktop and VP Online, please read: Accessibility of web-based features from Visual Paradigm desktop
Online Drawing Tools
Draw UML, ArchiMate, BPMN and Flow Chart online. Develop SWOT, PEST, Five Forces and more.
Supported diagrams:
UML
ER Diagram
PERT Chart
PEST Analysis
Business Cpt.
Azure
ITIL
ArchiMate
DFD
Venn Diagram
Five Forces
Network Dgm.
Google Cloud
BPMN
Mind Map
SWOT Analysis
Four Corners
Rack Diagram
Alibaba Cloud
Flowchart
Org. Chart
Value Chain
Floor Plan
AWS
Tencent Cloud
Features and Benefits:
Wide range of diagram types supported
Intuitive web editing interface
Google Drive integration
Real-time synchronization of diagram
Export as PNG, JPG, GIF & SVG
Visio stencil & drawing import
Office Add-in: Embed diagrams in PowerPoint, Word, etc
Multilingual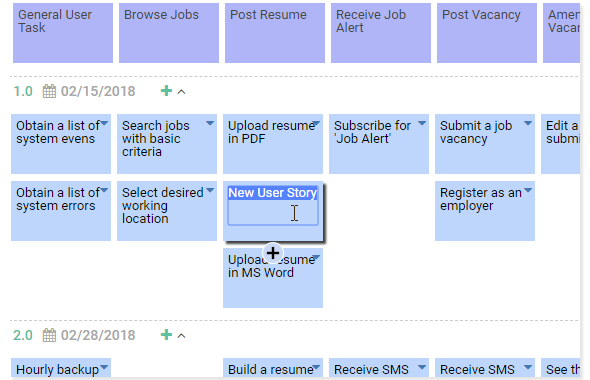 User Story Mapping
Create and manage user stories with a powerful, web-based user story mapping tool. Estimate user stories, manage and plan sprints and release effortlessly.
Features and Benefits:
Manage User Stories anytime and anywhere on web
Drag-and-drop User Story Map tool
Estimate user stories with Affinity Table
Assess effort and risk of stories with Affinity Table
Sprint management
Release managing
Customer Journey Map
Map out a customer journey, study customer's behavior and thoughts, and look for improvements
Features and Benefits:
Web-based Customer Journey Map editor
Persona support
Customer experience charts
Emotion charts (with smiley faces)
Bar charts
Area charts
Maintain references among cell items
Task Management
Manage project activities with a powerful, intuitive and flexible task manager.
Cloud-based project and member management
Manage project activities online
Intuitive task management interface
Gantt chart
Effective tasks organization and management
Integration with user story map
On-Demand Model ETL

Design your desirable views of model data in a tabular form for bulk-view/edit/prioritize/visualize using Model ETL big data technology.
Extract(E): Get a Bird-Eye View of Modeling Artifacts

The ETL engine reads and analyzes a specified type of modeling artifacts and extract the desirable information into a models-to-properties table; giving a summarized view of the model elements which could otherwise be scattered all over the diagram and property windows.

Transform(T): Consolidated List for Block Manipulation

The transform function facilitates the editing and/or conversion of the acquired data into the desired state. With the ETL Table, you can perform mass editing on multiple modeling artifacts quickly and accurately. For example, extract a list of use cases from a diagram to form an ETL Table, go over the use cases, and then determine their importance with clients and adjust their priority accordingly in one shot!

Printable ETL Table for Annotation Purposes

The ETL Table can also be used as a resizable and moveable table legend within the diagram pane. You can even create multiple ETL Tables which associates with different kinds of models and criteria. The combination of the model (or diagrams) with the annotated tables side-by-side provides a more precise and informative representation for readers.

Second Level Detail in One Table

A basic Model ETL can extract data from a particular model or diagram (i.e. Use Case Diagram or a data table). Now, the enhanced model ETL allows you to extract data from multiple models or diagrams and combine those information into an integrated Model ETL Table for data transformation and visualization.

Aspect-Oriented Properties

Aspect Oriented Properties (AOP) is a user-defined set of tagged values of a particular aspect for reusable purpose. It is attachable and detachable on-demand for model extension, i.e., an AOP of cost estimation is applicable for both use cases or user stories and can often be used in combination of an ETL table.

Drag-to-create shape from ETL Table

Instantly create a view from a model element being listed in an ETL Table, through dragging that element from the ETL Table shape. It's simple, flexible and intuitive.
Tailoring Just-in-Time Process with Custom Diagrams
Process tailoring is always essential since one size really can't fit all. The Just-in-Time Process Map supports process tailoring by featuring a full set of generic work items that enable the acquisition and storage of diagrams and text throughout a custom process. Simply drag the work items you need from the gallery to the process map. Process workers can then perform the action required during process execution.
Strategic Planning with BMM Guided-through
Successful enterprises are aware of change and often need to develop business plans to manage change from time to time. The OMG BMM provides an excellent framework to understand and communicate the motivation behind changes and for developing and defining business plans with minimal effort. It can be tailored to suit enterprises of all sizes. BMM Guide-Through process automates the entire development process for your team from analyzing, planning and to query of the model information of the BMM. Report generation is yet another essential features for enhancing your team communication.
Strategic Planning Guided Through

The generic Guide-Through process assists you in developing a Business Motivation Model that aids strategic planning. By following the process step-by-step, the core elements of strategic planning will be identified and automatically archived in the Documentation Cabinet.

Baseline-First, Target-First

There are two approaches of strategic planning with the BMM Guide-Through process.

Baseline-first: Go through a discovery phase of the current business state, then identify problem areas and come up with a target state elaborated from the current state.

Target-first: Starts by assessing the problem areas and opportunities. Shape the business based on the result of assessment.

Incremental Identification of Motivation Elements

An enterprise has a "reason to be", expressed as a set of Ends (what an enterprise wants to be) and Means (what to do in order to become what it wants to be) elements. Not only does the Guide-Through process allows you to identify and document all BMM elements, it also allows relating these elements and keeping the consistency of data through the reusability support. Example usage: selection of the Objective(s) that a Tactic aim to achieve.

Generate Strategic Planning Documents

Generate BMM documents for the communication of strategic plans. The BMM Guide-Through process comes with 8 pre-defined document templates.

Pick-up Quickly with the Help of Samples

No prior learning is required because you are guided through the process with instructions and samples.

Deliverables Auto-Archived

As you progresses phase by phase and works have been done step-by-step incrementally, the information will be collected from your work in background in forming different business plans documents, known as deliverables. All these deliverables will be generated, versioned and archived in a well categorized Deliverable Repository.
Agile User Story Map

Use Story Map to organize large collection of user stories with ease. Now you can overview, relate and break-down complex software features into manageable user activities, user tasks and epics and subsequently to user stories, synchronizing with multiple sprints for team collaborations.
Simplified-Version of Story Map

Use four-level story map to deal with scaled agile project, while you can always switch it back to the standard three-level story map structure in a few clicks.

Configurable Affinity Table

Dealing with your story estimation with traditional one dimensional affinity table or handling risk at the same time for dealing with project spike issues with 2 dimensional affinity estimation. Everything is configurable for fitting your needs.
Extract Any Model from Anywhere through Glossary
Different diagrams correspond to different views of a system that could be combined to form a full picture of a system. Any particular element of one diagram may be linked or evolved from an element in another diagram. Visual Paradigm provides a gateway to identify new elements from existing ones and establish the linkages in between. To do this, extract glossary term from the name or description of an element. When you do this, you can optionally create model element with the identified term. The created element will be dropped to the Diagram Backlog pane, readily for use in diagram.
Just-in-Time/Guide-through Process Enhancements
The Just-in-Time Process Map and Guide-through processes have been enhanced in recent versions. Listed below are the highlighted changes.
Manage work items in Tasifier
You can assign task for each of the work items in the Just-in-Time Process to Tasifier, our task manager, anytime and work collaboratively with your team members.
Customization of Forms
Modify the header text in forms to best fit your project. You can also revise the prefix and suffix of content. The changes you made will be reflected in deliverables generated from that form.
Process Guide-Tour
Complete out-of-the-box case studies are ready for you to experience both the Project Management and BMM guide-through processes by moving step-by-step, jumping or skipping specific steps within the standard process.
New Features in Standard Edition
The Standard Edition users under the valid maintenance plan can now enjoy the free upgrade for a great agile feature bundle as follows:
User Story 3C's and Scenario
Detail the popular 3C's sections, elaborate user story to scenario description and wireframe model to eliminate misunderstanding and innovate the entire software development process.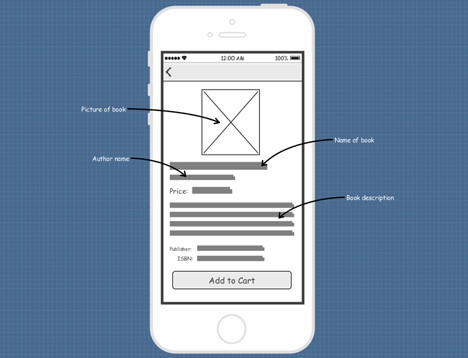 Wireframe and Storyboard
Perform UX design. Draw screen mock-up with wireframe, and present screen flow with storyboard.
Impact Analysis
Impact analysis visualizes the dependencies among models for ensuring the impact of your actions or modification made to a model can be minimized or anticipated.