Writing general user stories
In modern software development, requirements capturing is not something you can finish at the outset of a project. Instead, new requirements constantly emerge while previously suggested requirements can change throughout the project. To meet the ever changing expectations, we need a way that can facilitate the continuous capturing and management of user's requirements. User stories is one of the approaches that has been widely adopted by many agile projects.

Written by users (or customer team), user stories describe functionality that are needed by and valuable to users. As an integral part of many agile development processes, user stories offers a quick way in recording user's requirements without the need to write any detailed requirement documents or to have any prior consideration of system behaviors.

Visual Paradigm supports agile development teams in writing user stories for requirements capturing and project management. The user stories editor allows you to represent user stories as card, as well as to detail the conversation and confirmation items – The Three C.
Writing general user story
You can create user stories as general stories, or create user stories under use cases. To create a general user story:
Open the User Story page in UeXceler. If you are not currently opening UeXceler, select UeXceler > UeXceler from the toolbar first, and then open the User Story page.




Opening User Story page


Under the General User Stories section, double click on the block labeled Add a feature that can be finished in 10 days.




To enter user story


Write a short description of user requirement and press Enter to confirm editing. Note that user story is supposed to be short and unique, so do not try to write a paragraph here.




User story created


To create another user story, double click on the right hand side of the last story created.
Entering a description for user story
The name of a user story, which is the text that appears on a user story card uses to be short and brief. If you want to describe a user story in more detail, you can enter its description by performing the steps below:
Select the user story.
Double click on the text Write description.
Enter the description.
Press Ctrl-Enter to confirm editing.
Modifying the ID of a user story
An ID will be automatically generated to each of the user story upon creation. If you want to modify the ID, perform the steps below:
Double click on a user story to open it.
Open the Description tab.
Click on the existing ID and enter your own.




Editing user story's ID


Press Enter to confirm.
Following a user story
If you want to be informed when someone has made changes to a user story, you can follow the user story. Followers of a user story will receive email notification when the user story is being changed by another one. To follow a user story, click the Follow button under the Description tab of that user story. Of course, email can only be sent when the email address specified in your profile is correct and if the Teamwork Server has mail server properly setup (Not a problem for VPository users).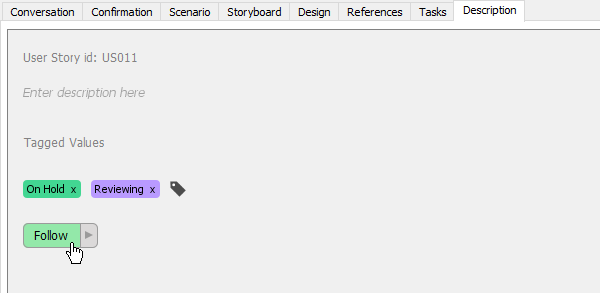 Follow user story

| | |
| --- | --- |
| NOTE: | This feature is only available under a teamwork project. |
Related Resources
The following resources may help you to learn more about the topic discussed in this page.