Managing and applying styles

You can format shapes and connectors in Visual Paradigm by changing their attributes, such as line styles, weight, color and transparency. Moreover, you can apply your preferred styles or remove them after creating. Since adding and applying styles of shapes and connectors is as simple as clicking few clicks, the newly created format settings will be applied on the selected shapes/ connectors easily and instantly.
Adding styles
To add styles:
Open the styles window by selecting View > Styles from the toolbar.
In the Styles window, click Add... to create and edit a new style.
In the Edit Style window, set the name, foreground line style, font style, background style and arrow style.
Click OK button after you finish editing.
Applying styles
Upon keeping the Styles dialog box open, select a target shape on the diagram and click Apply in the Styles dialog box.
As a result, the shape is changed into the newly created style.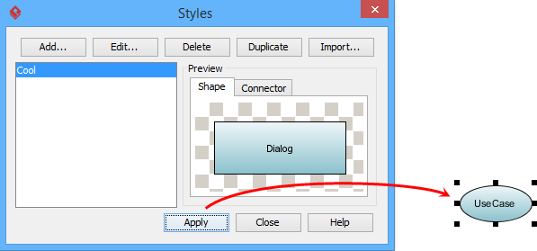 Apply styles to selected shape

Related Resources
The following resources may help you to learn more about the topic discussed in this page.