Using the Kanban Board
Kanban Board is one of the most popular agile tool that helps scrum teams visualize the progress of a sprint. A Kanban Board presents and arranges user stories in a sprint in multiple columns of statuses (i.e. pending, todo, discussing, developing, confirming and finished), allowing scrum team to see the progress of a sprint easily. Besides progress monitoring, you can also move user stories between statuses (columns) with drag and drop. You can even customize the statuses to suit your team.
Opening the Kanban Board
Open the Sprint page in UeXceler. If you are not currently opening UeXceler, select UeXceler > UeXceler from the toolbar first, and then open the Sprint page.




Opening the Sprint page


Open the sprint that you want to delete by clicking on it.




Opening a sprint

Click on the Kanban Board icon.



Opening Kanban Board


This opens the Kanban Board. You can see a number of vertical columns. Each of them represents an available status of user stories. The user stories are listed under the statuses (columns) that they are currently in. Normally, as the sprint progresses, more and more user stories will be shown under the columns on the right. If deadline is approaching and there are still user stories shown under columns like Pending and Todo, you should check with the developers to see what is going on.




Kanban Board opened

Moving user stories between statuses
Besides monitoring sprint progress, you can also adjust the progress of user stories. This can be done by drag and drop.
Select the user story.




Selecting a user story


Drag it to the target status (column).




Changing a user story to be in Discussing status


Release the mouse button.
Expanding a column
If many user stories are sharing the same status, you may want to expand a column to make it easier to read. To expand a column, move your mouse pointer over the header of column and click on the Two Columns button.

To expand a status column

The column will be expanded.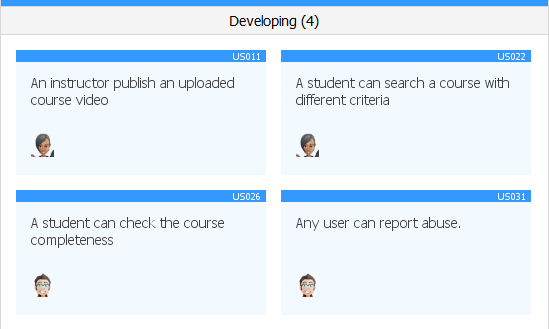 Status column expanded

Related Resources
The following resources may help you to learn more about the topic discussed in this page.