A Sprint goal shows the desired outcome of an iteration that provides a shared goal to the team, which goal has to be defined before the team starts the Sprint in order to focus to get this goal.
On the ideal situation, every sprint should have one goal. This ensures that everyone is in the same page. When the goal has been chosen, the team have to work to implement it.
First of all, the Product Owner has to define clearly the objective (or goal) of the Sprint. Then the team has to implement it in order to build a "Product Increment" and last but not least the stakeholders have to validate the goal and provide their feedback.
What is a Sprint Goals?
Sprint goal is a high-level summary of the goal the product owner would like to accomplish during a sprint, frequently elaborated through a specific set of product backlog items. A sprint goal is a short, one- or two-sentence, description of what the team plans to achieve during the sprint. It is written collaboratively by the team and the product owner.
The following are typical sprint goals for an e-Commerce application:
Add, remove and update quantities for the shopping cart
Develop the checkout process: pay for an order, pick shipping, order gift wrapping
4 Step for Creating a Sprint Goals
Sprint goal is typically defined in the first part of the Sprint Planning Meeting through the following main steps:
Product owner presents the ordered backlog items to the team.
Team discusses and understands the work for this Sprint.
Team forecasts and commits on the items that can be done.
Team creates the Sprint Goal for this Sprint.
Why A Sprint Goal?
While it's easy to gather a bunch of Backlog Items to work on in a Sprint, it's a little harder (but much more valuable) to have a set of Backlog Items that fit together and in this way, provide more business value. Here are the five benefits of having a sprint goal suggested by Roman Pichler as follows:
Supports Prioritization
Creates Focus and Facilitates Teamwork
Helps Obtain Relevant Feedback
Makes it Easier to Analyze the Feedback
Supports Stakeholder Communication
Sprint Goal Template
Proposed by Roman Pichler, the sprint goal template consists of three main parts:
Actual goal,
Method employed to reach the goal,
Metrics to determine if the goal has been met.
It additionally provides a header section that allows you to state to which product and sprint the goal belongs, as the picture below shows.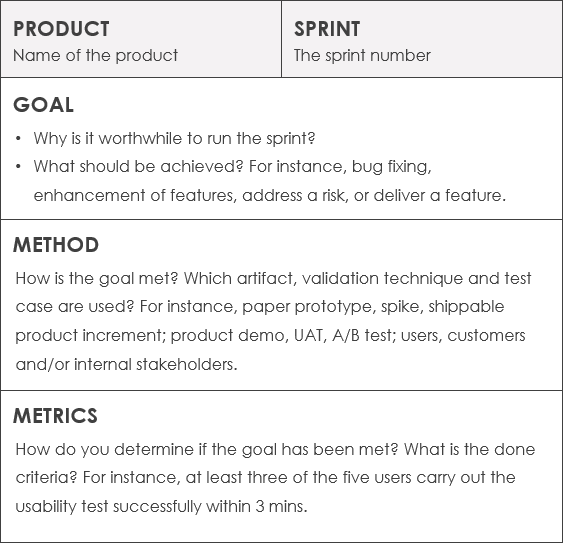 About Visual Paradigm

Visual Paradigm help organizations stay competitive and responsive to change faster and better in today's fast changing environment. Our award-winning products are trusted by over 320,000 users in companies ranging from small business, consultants, to blue chip organizations, universities and government units across the globe. It enables organizations to improve business and IT agility and foster innovation through popular open standards and process frameworks.Visual Paradigm, a killer Agile feature in 2018, introduced Scrum Process Canvas for automating the way a Scrum team to create, manage and deploy software application that empowers the team to continuously improve their performance at unprecedented speed and scale.

Manage the Entire Scrum Process in One Page
Automate the Scrum Framework in a fun and enjoyable dashboard with eye-catching updated status.
Manage Backlog, Multiple Sprints of different Scrum Roles with a single-page visually executable canvas
Allow instantly access, review and generate scrum artifacts and related documents to be archived in the Shared Cabinet
Automate the Scrum events and related activities with self-explanatory instructions, samples and required document templates.