As a Scrum Master, serving an agile Scrum team isn't the relaxed job. Between rushing from your daily standup to the next release, it is not so easy to cope with the tight schedule. You need some agile toolset for enhancing the productivity of your team and help ease the pain points even if you have remote employees. In this article you will get a list of 10 latest and efficient Agile Project Management tools that would help your team in the entire scrum development process.
Free Agile Tools
Mattermost
Team communication is very important. Without good communication, a project will always fail to meet its full potential. Every day we are seeing more instances of remote work and teams spread across large geographical areas.  Traditional email just doesn't meet the needs posed by most modern software development teams.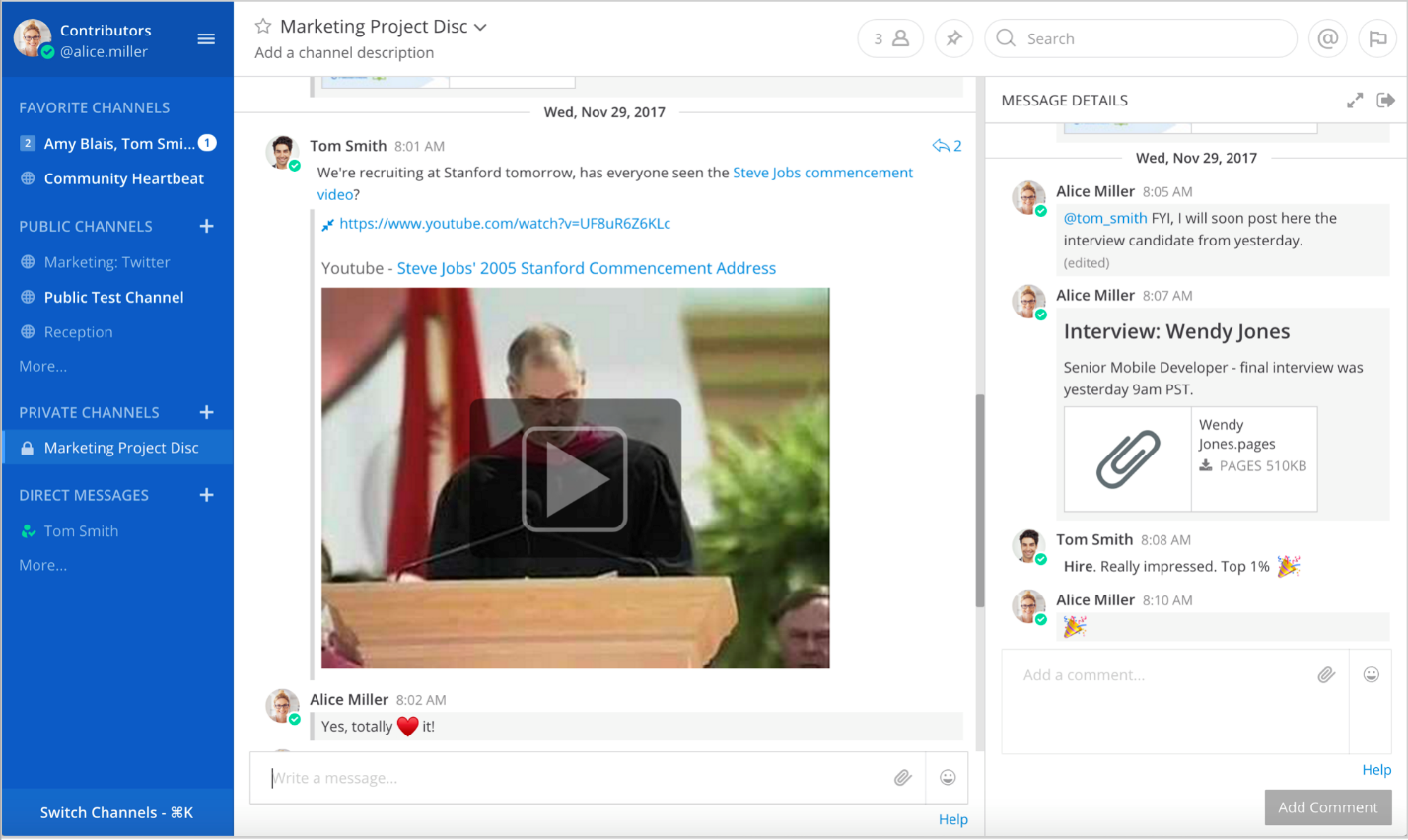 Mattermost is both the name of the company and the software solution it offers. They provide a Slack-like chat software that is designed for team communication. It offers a free and open source version, as well as two enterprise editions with advanced features. As an alternative to proprietary SaaS messaging, Mattermost brings all your team communication into one place, making it searchable and accessible anywhere. It's written in Golang and React and runs as a production-ready Linux binary under an MIT license with either MySQL or Postgres.
Visual Paradigm Community Edition
Visual Paradigm Community Edition was launched since 2004 to provide a free UML software for sole non-commercial purpose, supporting users who was making their first steps in UML modeling, and who need a free and cross-platform UML modelling software for personal use, such as applying UML on student projects. The major reasons for choosing Visual Paradigm Community Edition are as follows:
UML modelling tool free for all sorts of non-commercial purpose. Supporting the 13 UML 2.x diagrams
Trust by over millions users including IT professionals and large organizations
High quality – Award-winning
The most widely-used modeling platform for academia
Huge collection of FREE learning resources (support by VP Community Circle)
Upgrade path to the commercial editions for wide spectrum of applications and possibilities
Active user forum to get helps and exchange ideas & Experiences
Cross-Platform, user friendly, fast & responsive application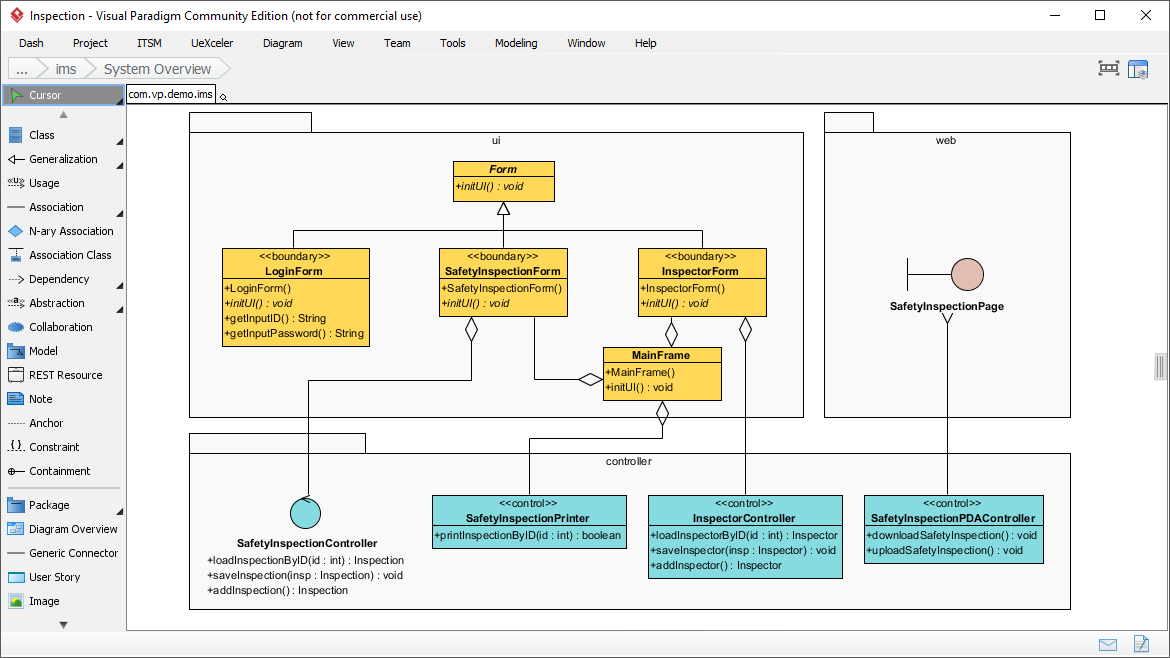 Visual Paradigm Online Express Edition
Visual Paradigm Online (VP Online) Express Edition is a free online drawing tool that supports UML, ERD, Organization Chart, etc. It features a simple, intuitive yet powerful UML editor, which allows you to create professional UML diagrams smoothly and quickly. The free UML tool comes with no ad, no limited period of access, no watermark on output and no limitations such as, number of diagrams, number of shapes and etc. You own the diagrams you created for personal and non-commercial purposes.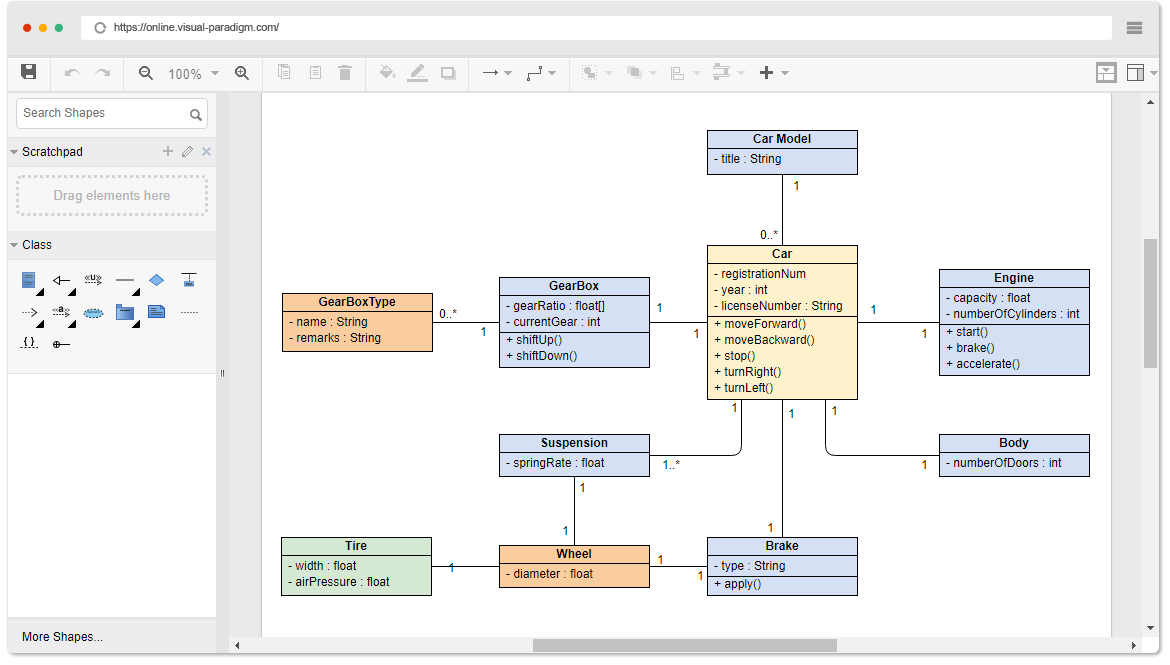 The Best Commercial Agile Tool
Visual Paradigm Scrum Process Canvas
You want to manage your entire scrum project in one canvas with jumping around different software application silos? Scrum Process Canvas allows you to seamlessly navigate the entire scrum process in a single, beautifully designed scrum process canvas. You can conduct scrum activities quickly, easily and seamlessly all within this one-single page which can keep the whole team fully engaged regardless in remote or co-location. As a Scrum master, now you can communicate with your team and manage all the events, generate or keep track of the artifacts much more effectively, keep everyone in the same page and make information update and to be available anywhere and anytime for everyone online.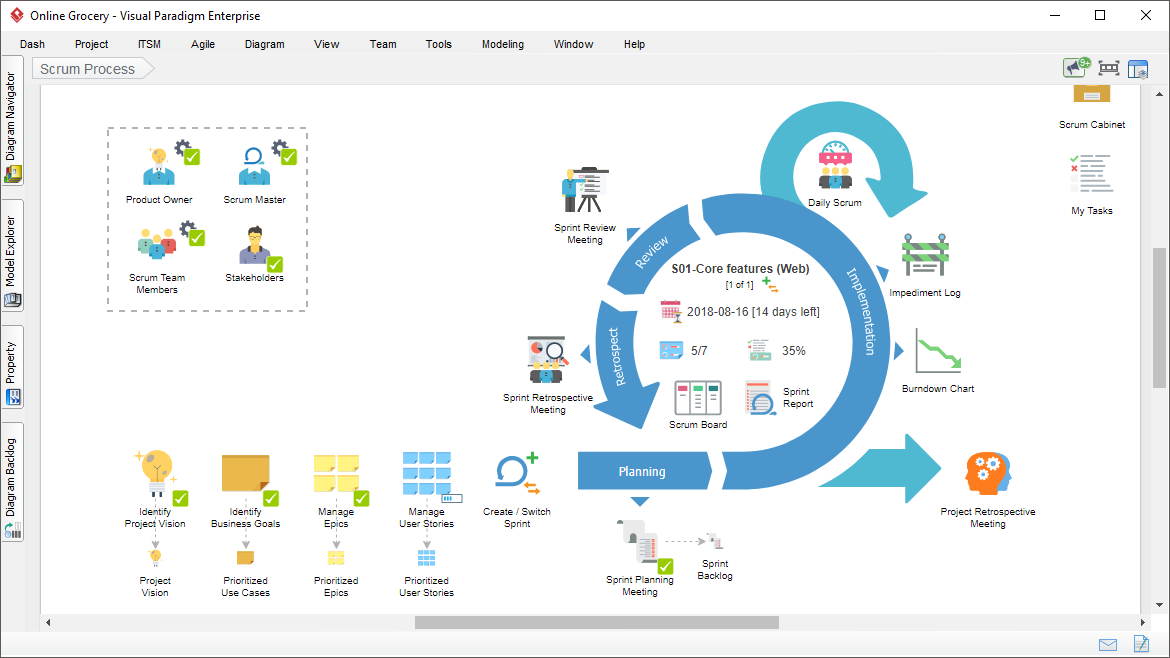 Microsoft Office 365 – Microsoft Planner
Microsoft Planner is designed to be a place where team members collaboratively manage and discuss work, using the kanban method. To get Planner, you have to subscribe to an Office 365 business grade account. Because of this requirement, it's highly unlikely that anyone who isn't already a subscriber would choose to use it. But if you have it and use other Microsoft apps, Planner easily links up with the rest of your work, whether that's information databases, email, or your calendar.
Microsoft Planner is a lightweight kanban-style collaboration tool. While it supports teamwork to a degree, it's missing important functionality found in competing apps.
PROS
Integrates effortlessly with other Office 365 apps. Price shown includes additional apps from Office 365.
CONS
Must have Office 365 Business Premium, Business Essentials, or Enterprise account. No @ mentions, filtering tools, search bar, timer, or swimlanes.
Visual Paradigm Online – Commercial Editions
VP Online platform allows you to create professional drawing is easier than you think. With few drags, you get a beautiful and professional-looked diagram that can express your idea well. It supports a wide range of visualization needs, from software design (i.e. UML diagrams), data modeling (i.e. ER diagram DFD, and etc.), business process mapping (i.e. BPMN, Business Concept Diagram, Infographics), strategic analysis (SWOT analysis Value Chain, PEST, Five Force, Four Corners), mind mapping to project scheduling (PERT Chart), and is widely adopted in different sectors like business, education, and social units. There are also huge collection of diagram templates for wide variety of different problem domains.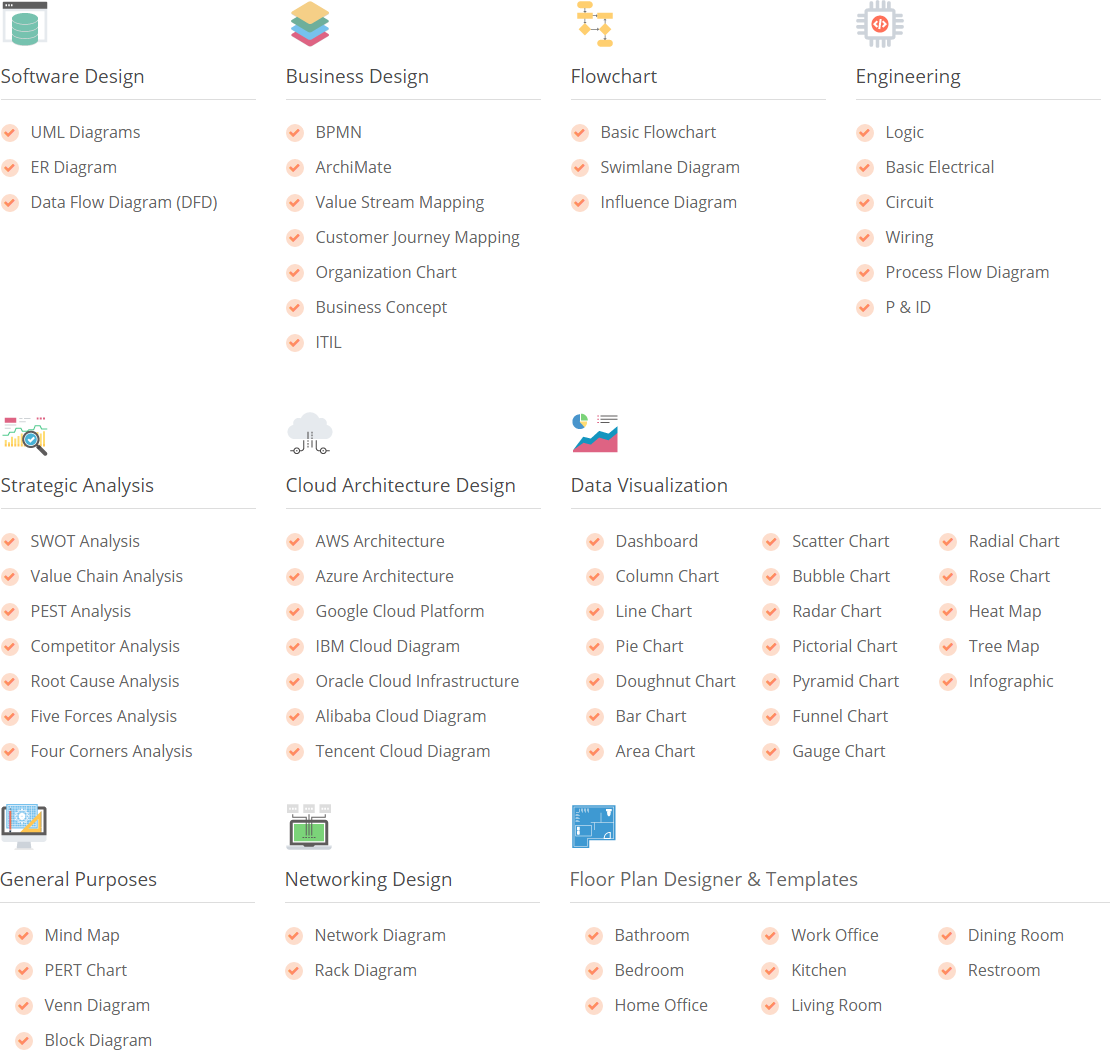 Atlassian Jira
JIRA is a tool developed by Australian Company Atlassian. It is used for bug tracking, issue tracking, and project management. The name "JIRA" is actually inherited from the Japanese word "Gojira" which means "Godzilla".
Jira is designed to help users capture, assign, and set priorities to their work. It allows you to manage the whole process of application development making sure that all things are covered, from concept to launch. It's simple, intuitive interface enables collaboration with teammates and allows you to get the job done in an effective manner.
At the moment, Jira is used by more than 51,000 customers worldwide including top brands like eBay, Spotify, Cisco, and LinkedIn. It is a leading software development app used by agile teams. Your team members can use Jira to plan, track, and release effective software. You can create user stories and issues, plan sprints, and assign tasks to your team members. Prioritize and discuss your team's tasks in full context with visibility. Plus, Jira offers real-time, visual data reports to boost team performance.
Tool Features:
Customizable Scrum Boards that can make to fit according to your team's workflow. These scrum boards are used to visualize all the work in a sprint. Any backlog moves automatically to the newsprint.
Flexible Kanban boards for continuously delivering maximum output at minimum effort.
Out of the box agile reporting that shows the real-time image of the sprint with the help of burnout chart, sprint report, a cumulative flow diagram, velocity chart, epic report, release burn down, etc.
Custom filters using JIRA Query Language (JQL).
Developer tool integrations.
1000+ add-ons.
Rich APIs.
On the go mobile apps that ensure an uninterrupted flow of work.
Customizable workflows.
About Visual Paradigm

Visual Paradigm help organizations stay competitive and responsive to change faster and better in today's fast changing environment. Our award-winning products are trusted by over 320,000 users in companies ranging from small business, consultants, to blue chip organizations, universities and government units across the globe. It enables organizations to improve business and IT agility and foster innovation through popular open standards and process frameworks.Visual Paradigm, a killer Agile feature in 2018, introduced Scrum Process Canvas for automating the way a Scrum team to create, manage and deploy software application that empowers the team to continuously improve their performance at unprecedented speed and scale.

Manage the Entire Scrum Process in One Page
Automate the Scrum Framework in a fun and enjoyable dashboard with eye-catching updated status.
Manage Backlog, Multiple Sprints of different Scrum Roles with a single-page visually executable canvas
Allow instantly access, review and generate scrum artifacts and related documents to be archived in the Shared Cabinet
Automate the Scrum events and related activities with self-explanatory instructions, samples and required document templates.