There is this perception that Agile applies only in software development. However, times are changing, and we are seeing more and more applications of Agile in broader product development and even in the sales and marketing departments. The core principles of Agile that we see in software development now translate very well to product development.
What is Agile? Waterfall vs Agile
Agile is a term used to describe approaches to software development emphasizing incremental delivery, team collaboration, continual planning, and continual learning, instead of trying to deliver it all at once near the end.
Agile focuses on keeping the process lean and creating minimum viable products (MVPs) that go through several iterations before anything is final. Feedback is gathered and implemented continually and in all, it is a much more dynamic process where everyone is working together towards one goal.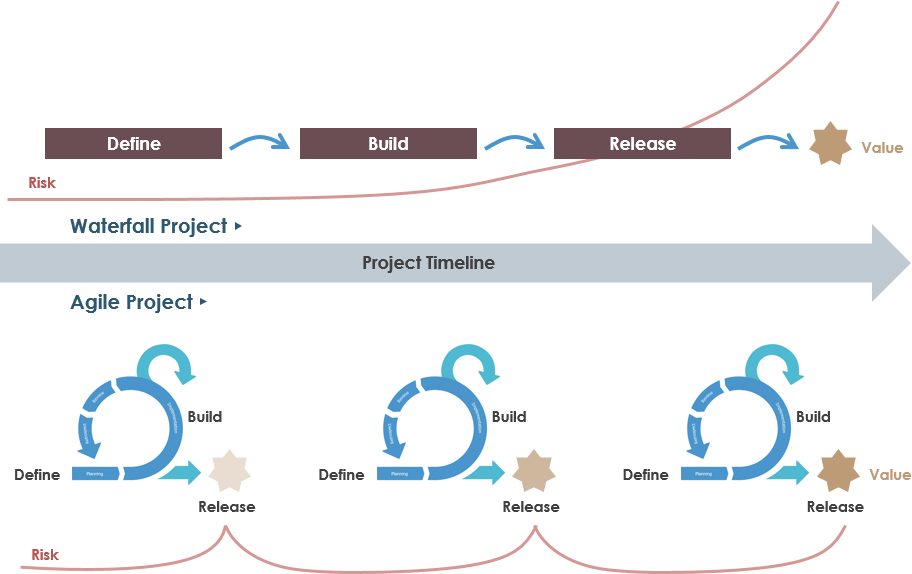 Leading Agile Methods
Agile is a mindset and it's a set of values and principles. Agile is a way of thinking and acting. Agile is all about short cycles, iterative and incremental delivery, failing fast, getting feedback, delivering business value to customers early and about people, collaboration and interaction. Agile is a mindset that is all about transparency, inspection, and adaptation. Agile, however, doesn't consist of any roles, events or artifacts. It's a mindset. For example, Scrum is one of the widely used frameworks under the Agile umbrella, which may help you in becoming more Agile, there are however many more frameworks within the Agile movement, like Kanban, XP, Crystal and many more as shown in the Figure below: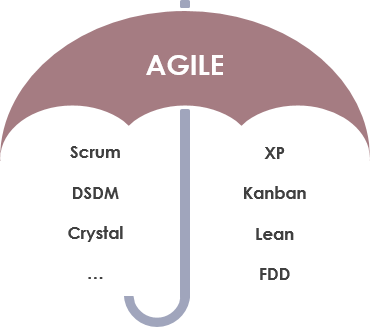 Scrum Framework Basics
Scrum is a framework within which people can address complex adaptive problems, while productively and creatively delivering products of the highest possible value. It is used for managing software projects and product or application development. Its focus is on an adaptive product development strategy where a cross-functional team works as a unit to reach a common goal within 2-4 weeks (Sprint).
Scrum is a framework for developing and maintaining complex products through "view-and-tune". It is a genre that follows the agile declaration and principles, integrating three roles, three artifacts, five events, five values, referred to as "3355".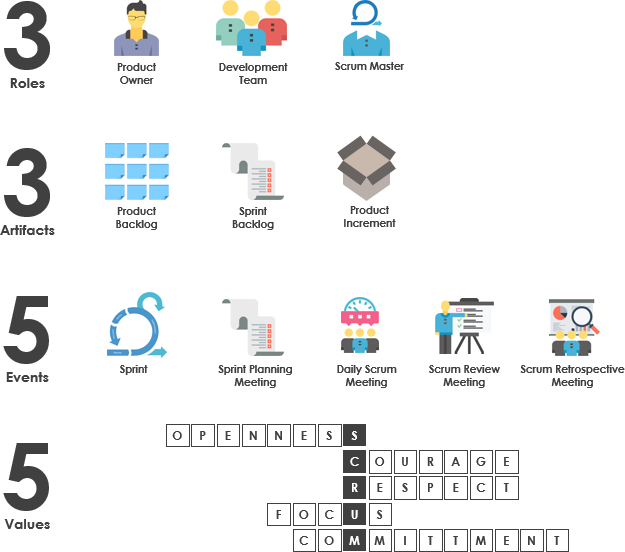 Agile Principles for Product Managers
Iterate, iterate and iterate! When developing a product 'the Agile way', the initial focus is typically on high-risk functionality or requirements, after which the Scrum team can start testing and refining, concentrating on the next product iteration or set of requirements.
Emerging requirements – Rather than locking down all functional and non-functional product requirements upfront, items in the "product backlog" are emergent and flexible.
Shippable product – The core focus of Agile Product Management is to regularly create and release working software which the stakeholders or customers can test or use.
Self-organized teams – Each Scrum team is expected to be cross-discipline and self-organized. This approach makes the traditional Project Manager role redundant.
Agile Scrum Tutorials for Product management
This is a step-by-step agile scrum tutorial that helps you understand the core concept of agile development as well as the way how agile project can be executed from the beginning until the end (i.e. product delivery). The agile software Scrum Process Canvas will be used throughout this tutorial. The whole agile scrum tutorial will cover various agile topics and it is recommended that readers read this scrum tutorial to fully understand the flow of agile project development.
Outline of agile scrum tutorial
There is a total of twenty lessons covered in this agile tutorial. Click on a lecture to begin.
s
About Visual Paradigm

Visual Paradigm helps organizations stay competitive and responsive to change faster and better in today's fast-changing environment. Our award-winning products are trusted by over 320,000 users in companies ranging from small businesses, consultants, to blue-chip organizations, universities, and government units across the globe. It enables organizations to improve business and IT agility and foster innovation through popular open standards and process frameworks. Visual Paradigm, a killer Agile feature in 2018, introduced Scrum Process Canvas for automating the way a Scrum team to create, manage and deploy software application that empowers the team to continuously improve their performance at unprecedented speed and scale. Manage the Entire Scrum Process in One Page Automate the Scrum Framework in a fun and enjoyable dashboard with eye-catching updated status. Manage Backlog, Multiple Sprints of different Scrum Roles with a single-page visually executable canvas Allow instant access, review and generate scrum artifacts and related documents to be archived in the Shared Cabinet Automate the Scrum events and related activities with self-explanatory instructions, samples, and required document templates.