User Story Map
Use User Story Map to organize large collection of user stories with ease. Overview, relate and break-down complex software requirements into manageable user activities, user tasks and epics and subsequently to user stories, synchronizing with multiple sprints for team collaborations. Use four-level story map to deal with scaled agile project, while you can always switch it back to the standard three-level story map structure in a few clicks.
Just-in-Time backlog management
Store requirements in backlog for classifying, prioritizing, estimating and ready for spike investigation.
User Tasks management
User Activities are sub-divided into User Tasks - things that one can do to accomplish goals.
Sending Multiple Sources of Requirement to Backlog
Identify requirements from different sources using different approaches and send them to the story map backlog right from the diagrams, by this way, you can automate and enforce the traceability among software models, regardless of the source from where they were derived.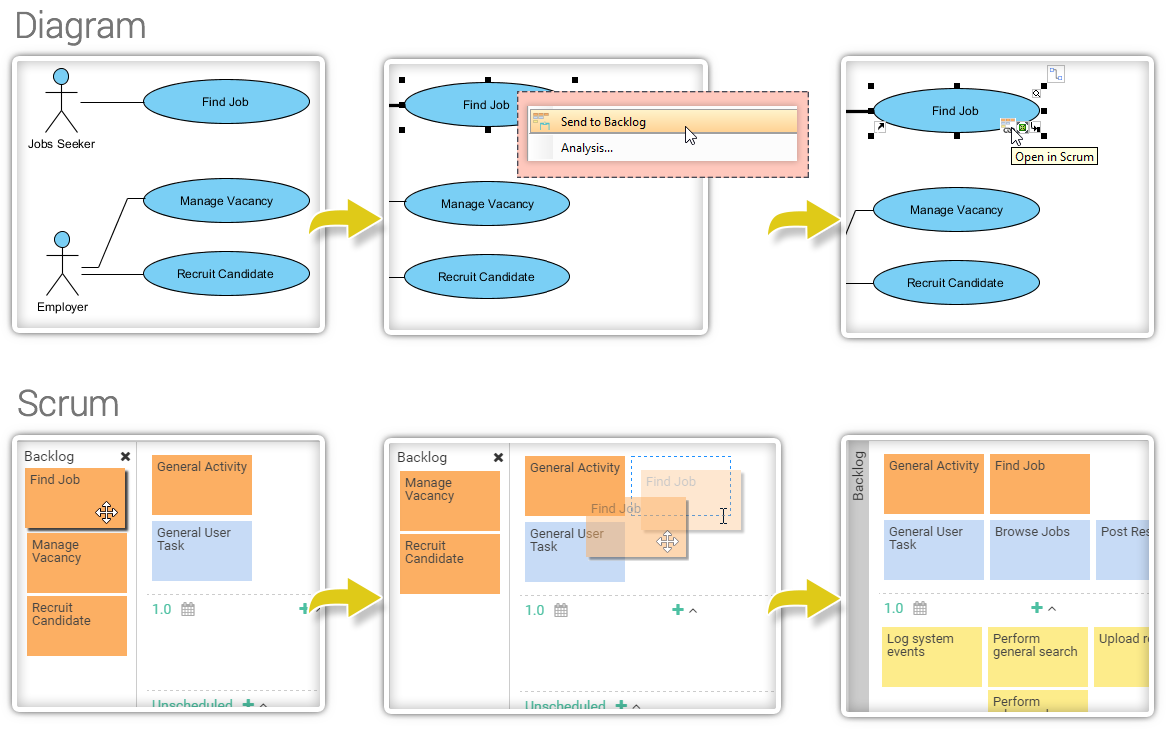 Epics and User Story Screen
Oversee the user stories of the entire product. Create, prioritize and re-locate user stories on-the-fly.
Effort and Risk Assessment with Affinity Table
Estimate user stories both in story points and hours at the same time, perform spike investigation and eliminate technology risks in Sprint 0. Seamlessly integrated with story map, and scrum and sprint process.
Scrum Sprint Board
Edit, prioritize, label user stories with easy drag & drop GUI. Manage and organize stories with multiple sprints and epics. Synchronize stories with story map and teamwork capabilities in real-time.
Sprint Task Board
Keep an eye on the project's progress. Sprint Task Board consists of a big board with user stories placed in different columns representing the phased processes. You can view and update the progress of stories by drag-and-drop around the columns.
Derive Tasks (Task Management) from Sprint
User stories can be identified in Story Map, or alternatively be created ad-hoc within a sprint. You can assign who is responsible for what task(s) within the sprint GUI and synchronize the entire sprint to Tasifier (a Task Management tool) without leaving the sprint.
Gantt Chart Support
Visualize the progress of supporting a user story with a Gantt Chart. See the start and end dates of tasks, their inter-dependencies and progresses, make adjustment to their duration on-the-fly in the Gantt Chart tool and in sync with the list in Tasifer.
User Story Statements
A user story represents a small piece of business value that a team can deliver in an iteration. User story statements contain a list of simple description of a feature told from the perspective of the person (user or customer) who desires the new capability with a good reason behind it. You can write user story statements under an Epic, and have user stories generated automatically.