Components of BPMN
Actually, other than flow elements like events, gateways and activities, some other elements are also important to constitute a BPMN. They are swimlane, pool and lane. Generally speaking, swimlane acts like a mechanism to organize different activities within a process diagram and it contains two other components, pool and lane. A pool represents a participant in a process while lane is a sub-partition within a pool.
In this case, the BPMN has a pool which represents the participant, ABC Company. Within the pool, there are multiple lanes in which each of them consists of a participant of the company. There are altogether three participants in this ABC Company, the employee, the manager as well as the HR.
The Leave Application Process Example
In order for the process to initiate, something must be happened, that is, an employee in this company wants to take a leave. So, on the diagram, the start event symbol is drawn on the lane labelled Employee to indicate the start. Then, a solid arrow is linked from the start event symbol to a task symbol to indicate the process flow direction and to show that the first thing the employee needs to do is to fill in the leave application form. After that, he has to submit the form to the manager for approval.
From here, the manager is responsible for the process, so, we link the task Submit Leave Application For Approval to another task event Evaluate Leave Application on the Manager lane. After the manager received the application, he will evaluate on it in order to decide whether to approve the leave request or not. At this point, since there are two possible results, either approve or decline, a gateway symbol is drawn on the diagram to diverge the process into two ends. That is, if the application is rejected, the manger will need to inform the employee and the application process terminates. So, the task Inform Employee The Request Is Declined is connected to an end event symbol. On the other hand, if the application is accepted, the manager will inform the employee and the application process will continue to follow to the lane of HR where he needs to manage the application.
Finally, what is left in the process is for the employee to take the leave. The end event symbol is connected to the last task Take the Leave to indicate the whole process completes.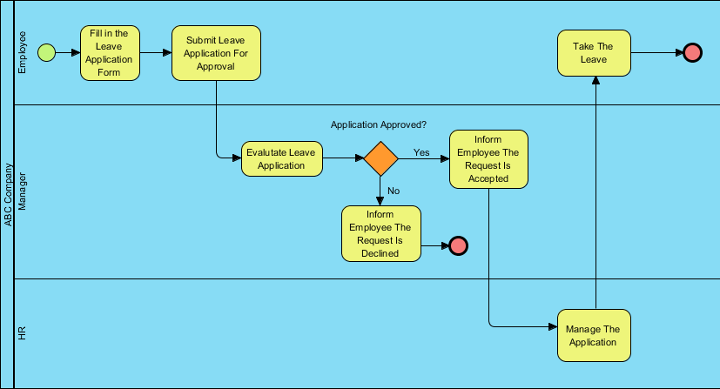 ---
---
---